Water Well Pump Sales & Service
Pump Sales, Installation & Service
STI provides a full range of pump and motor services, including complete rebuilds, to the Municipal, Utility & Industrial water supply markets, along with pumps to the environmental remediation markets.
Pumps
Submersible Turbine Well Pumps
Vertical Turbine Line-shaft Pumps
Mixed Flow Pumps
Propeller Pumps
Close Coupled Pumps
Motors
Vertical (Solid & Hollow Shaft)
Horizontal
Submersible



Sales, Installation & Repair
For pumps ranging from residential submersible and jet pumps to completely rebuilding high volume, submersible, deep well line shaft turbine and high service pumps for municipal and industrial systems.
Both long and short duration step rate pumping tests using temporary pumps and power, or the customer's pumps and power can be performed.
We also offer an Annual Well & Pump Performance Check-up to make sure that your pumping equipment is operating within its design curve and efficiency and to minimize the chances of catastrophic failure.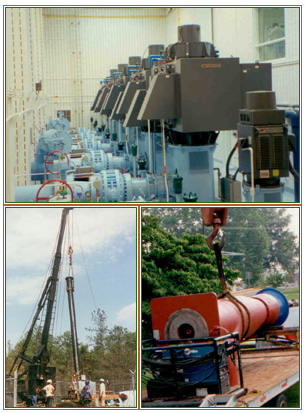 Does your well pump look like this?
Here are some examples of the corrosion we've found in well pumps taken apart for inspection.